Brand name
: Saxenda ['s
ʌkse:nd
ə
]

Active ingredient
: Liraglutide

Schedule
: S4

Class
: GLP-1 agonist
Manufacturer
: Novo Nordisk Pharmaceuticals Pty
Consumer medicine information (CMI) leaflet
Please read this leaflet carefully before you start using Saxenda.
Even if the needle in your Saxenda® pen has been replaced, do not share it with anybody. You might infect other people or yourself with a serious illness.
What Saxenda® is and what it is used for
Saxenda® is a weight loss medicine that contains the active ingredient liraglutide. Liraglutide is contained in Saxenda®. It's much like the hormone GLP-1, secreted by the small intestine. One dose of Saxenda® is administered daily.
Saxenda® is used in persons 18 and older who have:
a BMI above 30 (obese);

BMI between 27 and 30 (overweight);

weight-related health concerns (diabetes, high blood pressure, abnormal blood lipids, sleep apnea).
You should have lost at least 5% of your starting weight after 12 weeks of using Saxenda at a 3.0 mg/day dose. To get long-term care, you must see a physician. Saxenda® should be taken in addition to a healthy diet and regular exercise.
BMI calculates a person's weight in relation to height. It's calculated by dividing weight by height squared.
Body Mass Index Calculator
BMI is calculated by dividing your weight in kilograms by your height in metres squared.
Enter your measurements and click 'calculate' for your body mass index.
If your BMI is above or below the normal range but you consider yourself to be of normal and healthy weight for your height, chat with your doctor about any potential health concerns.
This calculator has been reviewed by NeverGiveUpTeam experts and is based on reputable sources of medical research. It is not a diagnostic tool and should not be relied on as a substitute for professional medical or other professional health advice.
Saxenda® suppresses your appetite by binding to hunger-regulating brain receptors. So you'll be able to eat less and shed pounds. Also, Saxenda® helps you keep the weight off and prevent gaining it back after losing it.
Children and teens under 18 should not take Saxenda®. Because the drug's effects on this age range are unknown.

Saxenda® is not addictive.

Saxenda® is available only with a doctor's prescription.
Before you start to use it
During Saxenda® therapy, tell your doctor if you have:
diabetes (Saxenda® shouldn't replace insulin; s axenda® and insulin are incompatible);

cardiac failure (If you have severe heart failure, don't use Saxenda®);

prescription for any weight loss meds, OTC, or natural weight-loss drugs;

Crohn's disease;

gastroparesis;

thyroid disease, including nodules and enlargement.

renal disease/dialysis;

liver issues;

pancreatitis;

depression, suicidal thoughts, or another mental disorder;

gained weight due to medical issues or medications.
Before beginning Saxenda®, make sure you have enough water in your system. Dehydration causes renal issues requiring dialysis.  When in doubt, consult your doctor.
If you get significant upper abdominal pain, particularly on the right side, stop taking Saxenda® and see a doctor. Back or right shoulder pain is possible. Gallstones and gallbladder inflammation may occur as a result of weight loss.
Saxenda® hasn't been thoroughly tested in people beyond 75 years of age. So people above the age of 75 should avoid the drug.
Allergy warnings should be included in your medical history.
Inform your primary care provider if you are or intend to become pregnant. Research on the drug's impact during pregnancy is lacking. Saxenda® is not recommended for pregnant women. Saxenda® may harm a fetus.
Are you currently nursing a baby, or do you intend to do so in the future? Make an appointment with your doctor to discuss this matter. It is not known if Saxendabreast ® passes through milk. Saxenda® should not be taken by breastfeeding women.
Before using Saxenda, tell your doctor if you have any of the conditions mentioned above.
See also the Warning section.
Before using liraglutide, tell your doctor or pharmacist if you are allergic to it; or if you have any other allergies. This product may contain inactive ingredients, which can cause allergic reactions or other problems. For further information, speak with your pharmacist.
Make sure you notify your doctor or dentist about all the prescription, nonprescription, and herbal products you use before undergoing any procedure.
If you have diabetes, this product may affect your blood sugar. Check your blood sugar regularly as directed and share the results with your doctor. If you see signs of low blood sugar, contact your doctor immediately (see Side Effects section). The medicine your doctor has prescribed for your diabetes may need to be adjusted, as well as an exercise program, or diet.
Pregnant women should not use this medicine. Unborn children may be harmed by it. Tell your doctor straight away if you get pregnant or suspect you may be pregnant.
Whether this drug is excreted in breast milk is still a question mark. Before you start breastfeeding, make an appointment with your doctor. Consult your pharmacist or physician.
Interactions between drugs might alter their effectiveness or raise your vulnerability to harmful side effects. All probable medication interactions are not included in this text. Your doctor and pharmacist will be able to help you if you keep a list of all the items you use (prescription and over-the-counter). Unless directed otherwise by your physician, never start, stop, or alter the dose of any medications.
Some products that may interact with this drug include diabetes medications (such as insulin, sulfonylureas including glyburide).
Do not use this drug with any other product containing liraglutide or other medications similar to this medication but used for diabetes (such as exenatide and dulaglutide).
Your doctor or pharmacist will need to know whether you're taking any additional medications, including those purchased over the counter at your pharmacy, supermarket, naturopath, or health food store.
In particular, tell your doctor or pharmacist if you are using medicines:
Also, be sure to let your doctor know if you're taking any additional medications. This can't be stressed enough. Your doctor's job is to tell you whether or not to continue taking them.
Both your physician and pharmacist can help.
You should have received instructions on how to take your medication from your physician or pharmacist. Observe all the instructions. There is a possibility that the info in this leaflet is different.
A doctor, nurse, or pharmacist may explain the directions if necessary.
You'll be put on a diet and fitness plan by your doctor. Maintain your participation in this program while taking Saxenda®.
If your doctor does not provide sufficient information about your eating, you may choose to opt for a customized Saxenda meal plan (Australia). Make sure that it fits your daily needs for the necessary elements.
Saxenda® is supplied as a pre-filled pen containing liraglutide. The Saxenda® pen can give doses of 0.6 mg, 1.2 mg, 1.8 mg, 2.4 mg or 3.0 mg.
Your doctor will tell you how much of this medicine you need to use each day.
| | |
| --- | --- |
| Week | Dose to inject |
| 1 | 0,6 mg once a day |
| 2 | 1,2 mg once a day |
| 3 | 1,8 mg once a day |
| 4 | 2,4 mg once a day |
| 5 onwards | 3,0 mg once a day |
Once you've reached the 3.0 mg dosage in week five of therapy, stick with it until the completion of the treatment term. The dosage should not be increased anymore.
Visit your doctor frequently to see whether Saxenda® therapy is still necessary for you. A doctor's prescription is required for any dosage adjustments.
You can use Saxenda® at any time of day, with or without food and drinks. It is preferable to use Saxenda® at about the same time each day, at a time that is most convenient for you.
If you use too much (overdose)
Speak to your physician or go to the nearest hospital if you think that you are using Saxenda® excessively. Carry the medical bag with you. You might be in need of medical care. If you take too much Saxenda®, you may have nausea, vomiting, or low blood sugar (hypoglycaemia). Hypos can be detected early if you observe the symptoms listed below.
Within 12 hours after forgetting a dosage, inject Saxenda® as soon as you realize you haven't taken it.
If, on the other hand, it has been more than 12 hours since you were supposed to use Saxenda®, you should omit the missed dosage and re-inject it the following day at the regular time.
To make up for a missed dose, do not utilize an additional dose or raise the dosage the next day.
Ask your doctor, nurse or pharmacist for advice if you're unclear of what to do.
While you are using Saxenda®
Tell your doctor if you have diabetes. Your physician may change your diabetic medication to avoid 'hypos' (low blood sugar levels).
Travelling? Tell your doctor, nurse, or pharmacist. Request a letter outlining why you're bringing injectables. You should carry several copies of this letter to each state you visit.
Your destination country may not have Saxenda®. A doctor, nurse, or pharmacist can give you helpful tips.
Drive carefully until you know how Saxenda® affects you. Consult your doctor or pharmacist for details.
If you get ill while taking Saxenda®, call your doctor, nurse, or pharmacist right away. The side effects of any medicine are a given. In most cases, they're not so severe. However, adverse symptoms may need a trip to the hospital for evaluation and treatment.
Don't be alarmed by these side effects; they can disappear soon.   Don't hesitate to ask your doctor, nurse, or pharmacist if you have any questions.
Saxenda® often causes:
These are mild side effects that lessen with regular drug usage.
If any of the following concerns you, see your doctor:
These symptoms might occur in the first 3 months of therapy.
This list contains typical pharmaceutical side effects – mild and temporary.
Less common side effects:
This may be caused by vomiting, nausea, and diarrhoea at the beginning of therapy. 
Hypos are more common in diabetics receiving sulfonylurea. Hypo may strike abruptly. Hyposymptoms include:
Your doctor can tell you how to manage low blood sugar and what to do if you have these symptoms. If you're taking sulfonylurea when you start Saxenda®, your doctor may cut the dosage.
Tell your doctor immediately if you:
Tell your doctor if you notice anything else that is making you feel unwell.
Inform your doctor immediately or go to Accident and Emergency at your nearest hospital if you notice any of the following:
There are a number of dangerous symptoms on this list that may indicate an allergic response of some kind. You may need to be admitted to the hospital or get emergency medical care. Fortunately, these adverse effects are quite uncommon.
Some individuals may have additional side effects that aren't included here.
Ask your doctor, nurse, or pharmacist if you have any questions about your medical care.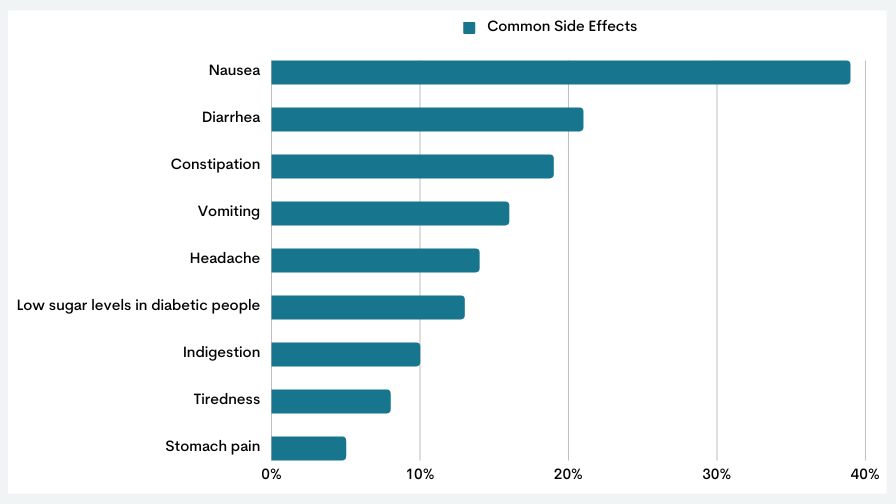 Saxenda® is supplied as a clear and colourless solution for injection in a pre-filled pen.
Each pen contains 3 mL of solution and is able to deliver doses of 0.6 mg, 1.2 mg, 1.8 mg, 2.4 mg or 3.0 mg.

Saxenda® is available in packs containing 1, 3 or 5 pens.
Not all pack sizes may be marketed.

This medicine is a colourless, clear injection

Needles are not included.
Color: colourless, clear injection solution
Saxenda® contains liraglutide (rys) 6 mg/mL as the active ingredient. The abbreviation 'rys' indicates the method of genetic engineering used to manufacture the liraglutide.
Saxenda® also contains the following inactive ingredients: dibasic sodium phosphate dihydrate, propylene glycol, phenol, hydrochloric acid, sodium hydroxide and water for injections.
Location

Australia

New Zealand

Company

Novo Nordisk Pharmaceuticals Pty. Ltd.

Novo Nordisk Pharmaceuticals Ltd.

Address

Level 10

118 Mount Street

North Sydney NSW 2160

58 Richard Pearse Drive

Airport Oaks

Mangere
Australian Registration Number:
AUST R 225804
Saxenda®, NovoFine® and NovoCare® are trademarks owned by Novo Nordisk A/S.
© 2021
Novo Nordisk A/S
The Australian 'Product Information' document is available from the following websites:
www.novonordisk.com.au
https://www.ebs.tga.gov.au/
For further information, call the NovoCare® Customer Care Centre on 1800 668 626 or 0800 733 737 (NZ).
www.novonordisk.com.au
www.novonordisk.co.nz
further dietary advice, refer to the dietary guidelines on the NH&MRC website at www.nhmrc.gov.au (Australia), or the current food and nutrition guidelines on the Ministry of Health website at www.health.govt.nz (New Zealand).
FAQ about Saxenda (liraglutide)
Healthdirect is not for emergency usage. Call triple zero (000) if you have an acute sickness, overdose, or emergency.
When created, correct information was provided. This material shouldn't be used to replace medical advice, diagnosis, or treatment. Please see our terms and conditions.