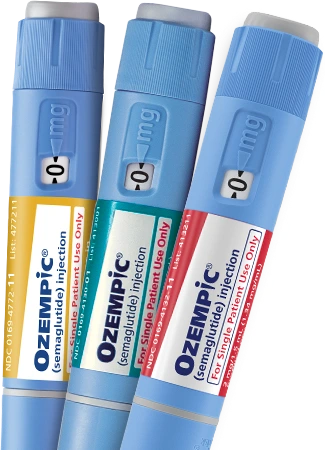 What is Ozempic, and how does it work for weight loss
It is a liquid injectable medication in a small plastic injection pen with a built-in mechanical dispenser.
Semaglutide is the active substance of the liquid solution, which:
Has an anorexic effect.
Contributes to insulin production.
Helps glucose penetrate muscle tissues to get energy.
Reduces the concentration of sugar in the blood plasma.
Important feature! The active substance excretes very slowly from the body. You do not need to take this medicine every day. Only one dose will help control your appetite for 7 days or more.
You might benefit from Ozempic used for weight loss only with an active lifestyle and diet changes.
The solution for subcutaneous injections contains the active substance Semaglutide and a diluent (sterile water) that does not have pharmacological activity.
Besides, the solution includes the following inactive components:
Sodium hydroxide.
Phenol.
Hydrochloric acid.
Propylene glycol.
Dibasic sodium phosphate dehydrate.