Duromine is one of the most common drugs helping people lose weight. In this article, we will review all approved dosing regimens and possible uses for this anorectic. Why is this information important?
The reason is it gives you a helpful tool in fighting obesity.
When you learn all the nuances of Duromine dosage, you can optimize your weight management plan and get rid of excess body fat for sure.
Important information! The drug will help obese people lose weight if they increase daily activity and follow a low-calorie diet.
Do you want this drug to become the best dietary ally in any conditions? Follow these guidelines:
Take only recommended Duromine doses (15 mg, 30 mg, or 40 mg).
Take a capsule in the morning before, during, or immediately after breakfast.
If you forget to take your dose at breakfast, take it before dinner.
How much Duromine should I take?
The drug is available in 15 mg, 30 mg, and 40 mg capsules, suitable for people of different ages and health conditions. Only a doctor can prescribe the best Duromine dose for weight loss.
Follow your doctor's advice for the right dosing schedule (go to the NPS MedicineWise instructions) because each treatment is different.
According to clinical guidelines:
You should start with a 30 mg capsule once a day.
You can change the dose to 15 mg or 40 mg depending on the drug's sensitivity after agreeing on it with your doctor.
Important information: If your BMI is above 35, you may need a starting dose of 40 mg per day.
You should select the dosage individually to get an adequate therapeutic response at the lowest effective dose.
People with hypersensitivity to central nervous system stimulants often ask: "How many Duromine in a day if it causes adverse effects?"
In this situation, there are 3 options for solving the problem:
Make sure you take the anorectic as your doctor says or as directed in the instructions.
If adverse reactions are serious or cause significant discomfort, you should reduce the dosage after consulting the doctor.
If the adverse effect is mild and does not interfere with daily life, you may continue with the original dosing regimen.
All these measures will lead to more consistent weight loss and reduce the likelihood of adverse reactions.
How long to take Duromine
We strongly recommend that you follow your doctor's prescriptions and don't violate them. If you read the instructions, you can see the following:
Over time, Phentermine loses its ability to suppress appetite.
The duration of a standard treatment course is up to 3 months (90 days).
The drug may cause physical or psychological addiction.
How long can you be on Duromine if it continues to suppress appetite?
It is an interesting question for many people. Actually, the treatment duration depends on your reaction to the medicine, and your doctor always determines it.
Some doctors prescribe Duromine for more than 90 days if the appetite suppression effect persists. But you should understand that there are no clinical studies on its long-term safety and effectiveness.
How long can you stay on Duromine if you reach the target weight?
If you reached (or almost reached) the target weight, you should gradually stop using the drug in case of high dosages. Usually, the doctor prescribes the optimal dosing regimen.
If you took 40 mg daily, he might advise lowering the dosage to 30 mg or 15 mg daily or taking it once every few days.
Don't determine the dosage on your own, and don't try to extend the drug intake beyond 3 months without consulting your doctor.
How long can you use Duromine 30 mg
You can take the standard dose of 30 mg for the entire recommended duration of treatment. Most people respond well to this dose and do not need its adjustment. If this dose stops working, for example, after 2 months, consult your doctor: A 40 mg dose will allow you to control your appetite further.
Duromine cycle
Only a doctor can determine if this drug is suitable for repeated use. The thing is that the central nervous system gets used to the action of Phentermine. As a result, the effect of appetite suppression is significantly weakened. A doctor may prescribe a repeated course, but it will take time for the CNS to respond to the drug again.
Only a doctor can answer the question: "How long can you take Duromine for weight loss if repeated?". Most likely, the new course will be shorter than the previous one.
What is the highest dose of Duromine?
The correct answer to this question may depend on where you live.
If you go to an Australian doctor, he can prescribe the highest dose of 40 mg.
If you live in New Zealand, your local doctor can't prescribe the 40 mg capsules. According to Medsafe, the New Zealand regulator, the starting and the highest dose of Duromine is 30 mg.
Important information! Failure to comply with the dosing regimen and the uncontrolled intake increase the risk of side effects or their aggravation. Don't use the Duromine highest dose of 40 mg or higher without consulting your doctor first.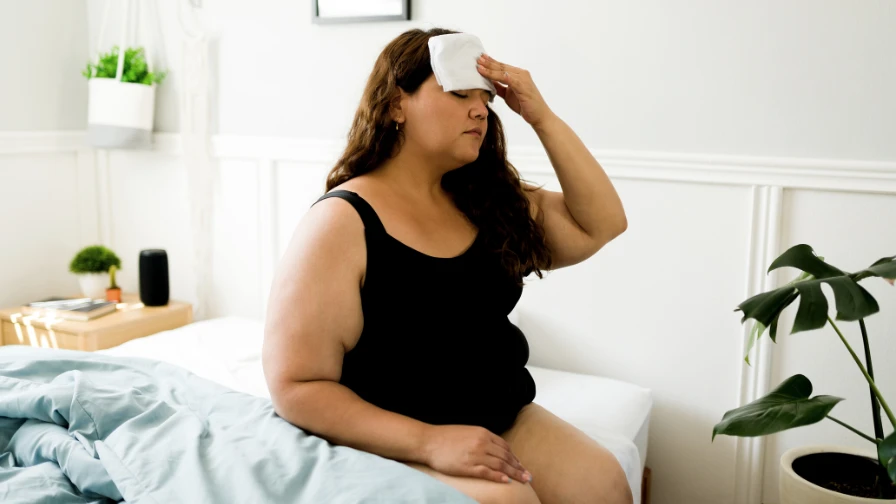 Can you overdose on Duromine?
Some people may be more sensitive to CNS stimulants than others. In case of incidental or deliberate exceeding the acceptable doses, the metabolism will not be able to neutralize the drug quickly enough.
With Duromine overdose, adverse reactions become more pronounced. Moreover, you can have other reactions that would not appear under regular use:
Vomiting.
Feeling hot or cold.
Aggressive behavior.
Involuntary muscle contraction (tremor).
Sweaty or dehydrated skin.
Immediately call your doctor or the Poisons Information Centre (Australia: telephone 13 11 26; New Zealand: 0800 POISON or 0800 764 766) for advice[A1], or go to Accident and Emergency at the nearest hospital, if you think that you or anyone else may have taken too much Duromine. Do this even if there are no signs of discomfort or poisoning.
Color Duromine 15, 30, and 40 mg options
The capsules are in blisters and a cardboard box for better medicine storage.
For the convenience of consumers, doctors, and pharmacists, capsules with different dosages differ in color. A capsule consists of two parts: a body and a cap. All bodies are gray.
Cap colors:
40 mg – orange.
30 mg – brownish-red.
15 mg – turquoise.
Duromine 15 mg vs. 30 mg
Both dosages help people respond better to lifestyle changes and achieve weight loss goals. As the 30 mg dose is twice the 15 mg dose, you can usually see the results more quickly, although not always.
Can I take 2 15 mg Duromine capsules? You shouldn't determine or adjust the drug's dosage for yourself. Taking two capsules daily is beyond the standard recommendations, and it can be dangerous.
However, if your doctor increases your dose to 30 mg and you still have 15 mg capsules left, you can take two 15 mg capsules.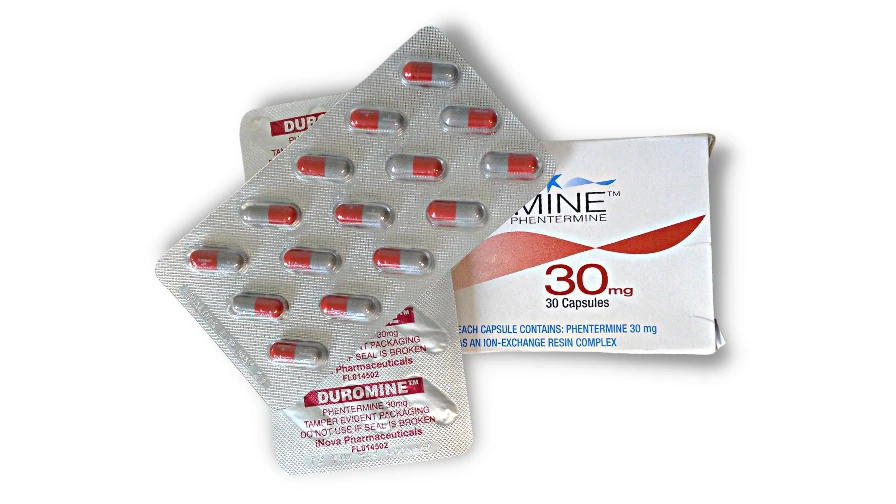 Can I take 60 mg of Duromine?
The effect of appetite suppressants is very noticeable within 1-3 weeks of treatment. After that, it gets more difficult to control appetite, and the rate of weight loss decreases.
Many overweight people ask logical questions: "Can I take 2 Duromine 30 mg a day?", "Can I take 60mg of Duromine per day?" or "What happens if you take 2 Duromine?".
40 mg is the highest safe dose you can take. If it is ineffective, you should:
Pay more attention to proper nutrition.
Burn more calories through physical activity.
Try another obesity treatment.
You should take care of your health, not just fast weight loss. Don't double the dose or take more than one capsule in 24 hours. It can cause long-term and/or serious medical complications (overdose).
Can I take Duromine 30 mg every second day?
You can only lose weight consistently if your medication works optimally. According to the NPS MedicineWise instructions, taking the obesity capsules can be intermittent. But it doesn't specify the dosing regimen. If you want to try the dosing regimen Duromine "day on/day off" or any other regimen, discuss this with your doctor first.
If you wonder, can you take Duromine every second day, please note that alternative dosing regimens may be helpful for some people. For example, taking Duromine 30 mg every second day may reduce adverse effects if you had them before.
How to stop taking Duromine
In medical practice, there are two protocols for stopping Duromine:
Sudden.
Gradual.
The doctor selects a protocol taking into account the specific needs of people, the treatment duration, and the state of health. With a gradual protocol, they usually recommend:
within 2-3 days: reducing the daily dose by about 2 times.
in the following days: reducing the dosing frequency to 1 time in 2 days.
The duration of this protocol is approximately 1 week. During this time, the body gradually adjusts to the decrease in the amount of the stimulant. Usually, low doses are no longer effective in suppressing appetite.
As for sudden coming off Duromine, you should remember that there is a slight chance of a psychic craving for the drug.
Can you stop taking Duromine suddenly?
If a doctor recommends it, you can do it this way, for example, when you take the drug:
In the dose of 15 mg.
In the dose of 30 mg for less than 1 month.
Don't do it without consulting your doctor if you have used high doses for more than 2-3 months.
When stopping Duromine suddenly, you can experience some unpleasant symptoms. However, if you have taken the capsules as directed, you probably will not experience any serious adverse reactions.
What happens when you stop taking Duromine
Various things can happen. If the first part of the weight management plan was successful, you could be glad about it.
Your next task is to maintain and improve the results achieved.
It is important to understand that you can no longer count on the help of the drug. Your appetite will increase, and your energy level will decrease. Now you have to control the amount of food you eat for yourself.
Duromine and withdrawal symptoms: what can happen
Stopping Phentermine sometimes causes withdrawal (strong physical or psychological discomfort) syndrome. Symptoms of this condition include:
Depressed mood.
Sleep problems.
Muscle tension.
Cognitive disorders.
The doctor will tell you how to get through this period with minimal discomfort. If these symptoms are serious, temporarily using antidepressants, anxiety medications, or sleeping pills may help.
Conclusion
Losing extra kilograms improves health, self-esteem, and quality of life for almost everyone who achieves it. If you want to go down this path and be successful, you must know how to use Duromine correctly.
We know that approved doses of Duromine affect the sympathetic nervous system, suppressing appetite and thereby increasing calories burned. Take this medicine properly, and you can optimize your weight loss plan and reach your target weight as quickly as possible.