Duromine and pregnancy are not compatible. This contraindication is tied to the fact that the drug affects the body's biological processes. Studies on the effects of the pills on pregnancy have been conducted only on animals. The results showed minimal adverse reactions in the fetus in these cases. However, it is worth pointing out that Duromine belongs to the category B3 drugs, which means that pregnant women did not participate in clinical trials of the drug.
Hence, if you ask "Can you take Duromine when pregnant", the answer, just like with other prescription drugs, is that it is not recommended for use by pregnant women without a doctor's prescription.
Can you take Duromine while pregnant without your doctor's permission?
You should always consult your doctor to find out if you can take Duromine while pregnant. Without a thorough diagnosis and evaluation by a doctor, it is impossible to determine how the drug will affect the baby. Therefore, if you wonder if Duromine is safe during pregnancy, consult a medical professional at a hospital.
The internet reviews suggest that the opinions of women who have taken the drug are divided. Some women have had pregnancies that went well, and the baby was born healthy, while others reported an ectopic pregnancy after they stopped taking Duromine but did not link that to the use of the drug. It is worth keeping in mind that it cannot be confirmed that Duromine caused the problem because these women reported having health issues in the past.
Taking Duromine while pregnant can impact the pregnancy in the most unexpected ways. The fetus in the early term has a weak immune system. In the first trimester, the organs and tissues of the future baby are developing. Any interference in their development may have an irreversible effect on their functioning and the child's central nervous system. That is why you should not take the drug on your own at any stage of pregnancy.
How can Duromine affect pregnancy?
The drug manufacturer recommends that you stop taking the drug immediately if you find out you are pregnant. If you are already pregnant and want to know if Duromine can affect pregnancy, immediately get in touch with your family doctor and let him know that you are taking the anorectic.
This is recommended due to the potential risks and the fact that pregnant women need to maintain their body weight and even increase their body weight in some cases. A complete and proper diet is crucial for the correct formation of the fetus.
Since there is no information on the possible effects of Duromine on the baby, it is best to refrain from taking it during pregnancy.
Is it possible that Duromine can affect a pregnancy test
If you wonder can Duromine affect pregnancy test and make it false-positive, the answer is "no". The drug can only cause pregnancy symptoms such as nausea, dizziness, and back and abdominal pain. If you test positive while taking Duromine, the test result may be false.
You should take another one or two tests for a more accurate result. You should also check the levels of hCG (chorionic gonadotropin) in your blood, which is produced by the fetal membrane, to be absolutely sure.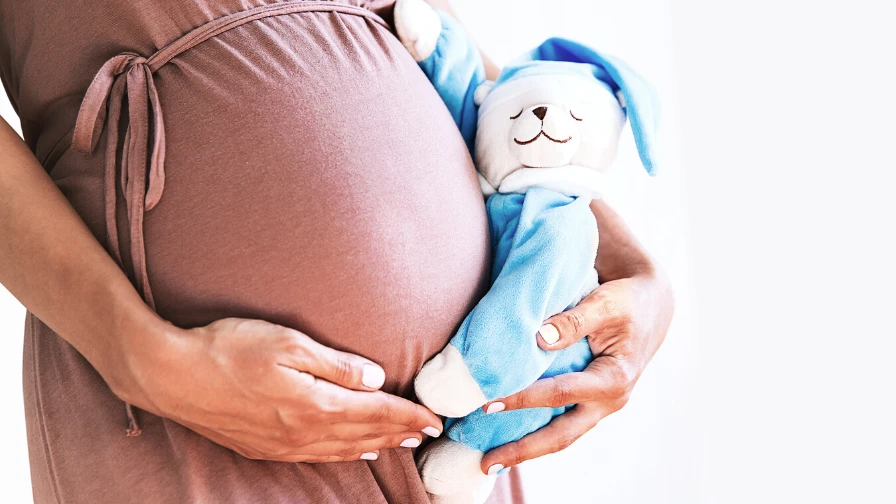 How long after taking Duromine can I get pregnant
Taking Duromine before pregnancy does not affect your ability to conceive and carry a healthy baby. No studies that confirm its effect on fertility have been conducted.
If you are wondering, "How long after taking Duromine can I get pregnant?", it will take some time for Duromine to be naturally and completely eliminated from your body. This usually happens within seventy-two hours after the last use, provided you have no urinary tract problems and no swelling.
Can you take Duromine while trying to get pregnant
You can find out if you can take Duromine while trying to get pregnant by consulting your doctor. Experts recommend do not plan for pregnancy if you are taking Duromine because of the risk of the fetus being affected.
When you take weight loss medication while trying to get pregnant, you may not know immediately that the fetus has been conceived, which can affect its development. In this case, you will likely have to interrupt the course of the drug, possibly without achieving the desired results.
Losing some extra pounds should be the main goal for anyone who wants to become a mother of a healthy baby, as obesity makes it more difficult to carry a child.
Can I take Duromine after pregnancy?
It is acceptable to take Duromine after pregnancy, especially if you have excess weight and are not breastfeeding. Many people regain lost pounds and even gain extra weight during pregnancy, which negatively impacts their health. For this reason, starting a course of treatment with Duromine at the first opportunity is advised. Refrain from breastfeeding during that period and switch over to baby formula. There is no evidence of the drug's effect on the baby, so you are advised to proceed with caution.
Conclusion
Healthy people have an easier time conceiving, carrying, and giving birth to a baby than obese people. If you are planning to get pregnant, complete the entire Duromine treatment first to make your pregnancy and the eventual delivery easier.
It is ideal to start planning a pregnancy no sooner than a week after the last time you took the drug. You can continue the treatment to get rid of the pounds you have gained after giving birth.